Notes about Google Earth

This button starts the program Google Earth with content from seascanner.com. We have marked the current position of many ships for you on the satellite images of the earth. The ships are also displayed as generic 3D models.
The positions of the ships are regularly updated.
All you need is a current version of the software Google Earth (Download after Sep. 13, 2006), which you can download here for free.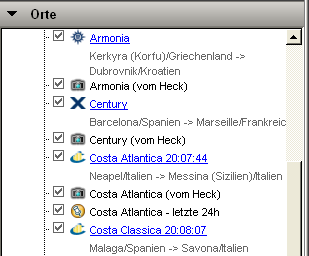 By double-clicking on one of the symbols in the column with the title "Places", you can change the camera view. Double-clicking on the company logo shows you the ship from the front, whereas the box icon will show the ship from the back. For some ships, you will also see the route of the past 24 hours as a white line.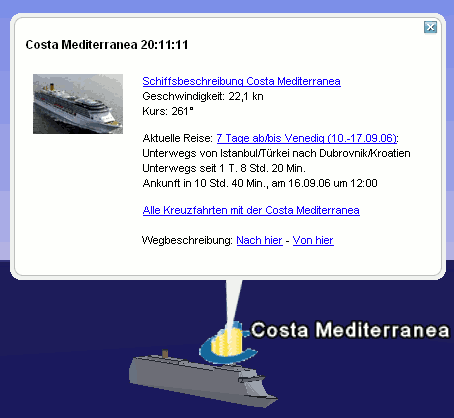 With a single click on the company logo in the main window, you can open an information bubble which will inform you about the current route, and which also contains links to the ship descriptions and cruises with that ship.
If you have questions about Google Earth, you will find plenty of sources on the Internet, e.g. at http://earth.google.com/userguide/v4/.
We wish you much fun while you are dreaming away!